Audacity Audio Edit
Mix professional audio and music production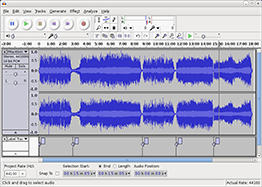 Mostly using Audacity, I'm able to do simple audio editing, such as making mixes and compilations.
Average time to complete: Within 1 day (depends on length of audio requested)
$2 per minute of audio
I use Audacity Audio application as a music compiler and a sound file editor for people at a cheap rate and i offer the best music editing. I consider myself as a Professional music/sound editor as i have been editing for many years.